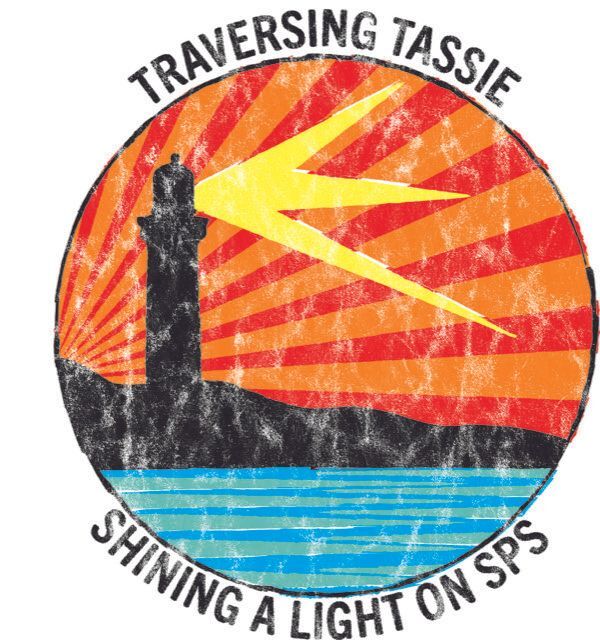 Here we are: November 2020! What an amazing month we have had! I was at Johns Hopkins for my monthly visit, second one in person. Yay! Met one of the new researchers and of course my neurologist whom I always love seeing. It was great to talk about the research that is happening and feel the excitement in the room. Walked out of there with a big smile on my face knowing we are all working together for a great cause.
We are coming up on Thanksgiving, a holiday known for giving thanks. And I definitely have some thank yous to hand out. First, I'd like to thank all of you who have supported the foundation, from donating, to helping raise awareness by sharing with friends and family. Because of your efforts, we have raised close to another $20,000! You guys are amazing! I am incredibly grateful for all of you.
Next month, one of my fellow SPS-ers is doing the unthinkable: running 547 miles across Tasmania and back (hence TTX2). There's a reason they call him the Tasmanian Devil!
Check out the website for TTX2, a.k.a. Traversing Tassie to learn more about the run, Shane's route, and how you can participate. The site will be updated regularly with details about Shane's training, where he is on the trek, and you'll even be able to post notes of encouragement to help him get home before the new year.
As if running the equivalent of 21 marathons in a month to raise awareness of SPS were not enough, Shane has generously pledged EVERY DOLLAR RAISED — whether it's buying a TTX2 t-shirt or donating per mile — goes directly to the Foundation.
I couldn't be more grateful, and GO SHANE!
Tara Zier
---
SPS Patient Stories
Meet Shane
I'd like to introduce you to Shane James. Some of you may have already met him through social media posts or his documentary "Run to Live." His "doco," as Shane calls it, inspired me to run back in 2018 shortly after I was diagnosed. I saw it and was blown away. Shane is exceptional. I could barely walk and this guy with my same condition was running like Forrest Gump! How could he possibly do that?
He had no idea at the time how much he had impacted me and given me hope. Hope that I was desperately seeking. I tried to track him down in 2018 and then out of nowhere received a message from him two months ago. What an incredible surprise! The next thing I know he's planning to do the trek of his life across Tasmania, his hometown, an island state of Australia, all to raise money for the Foundation. Forever grateful, Shane James!
---
Another Month, Another Myth to Bust
People with a disability with Stiff Person Syndrome can't run…MYTH!
Although most people with Stiff Person Syndrome have impaired mobility, ranging from walkers, to wheelchairs, to bedridden, there are outliers. Shane is one of them. Despite the horrific pain, and a history of a fractured back, Shane found a way to help control his condition with running and relied on a walking stick for the first 18 months. To date his longest race was Mt. Kosciuszko which is a whopping 246 kilometers/152.8 miles! He is exceptional! Another extraordinary SPS patient, Michele Caples, was inspired by Shane. She believes she is the only female marathon runner in the world with SPS.
---
Why We Do What We Do
The Stiff Person Syndrome Research Foundation exists to raise awareness and funds necessary to support research to develop better treatments, and to make a cure for Stiff Person Syndrome possible for each and every patient. Your donations so far this year have helped neurologists at Johns Hopkins Stiff Person Syndrome Center study the condition, which could lead to a better understanding of other autoimmune diseases.
Let's keep the momentum going – please donate, follow us on social media, and share this newsletter!