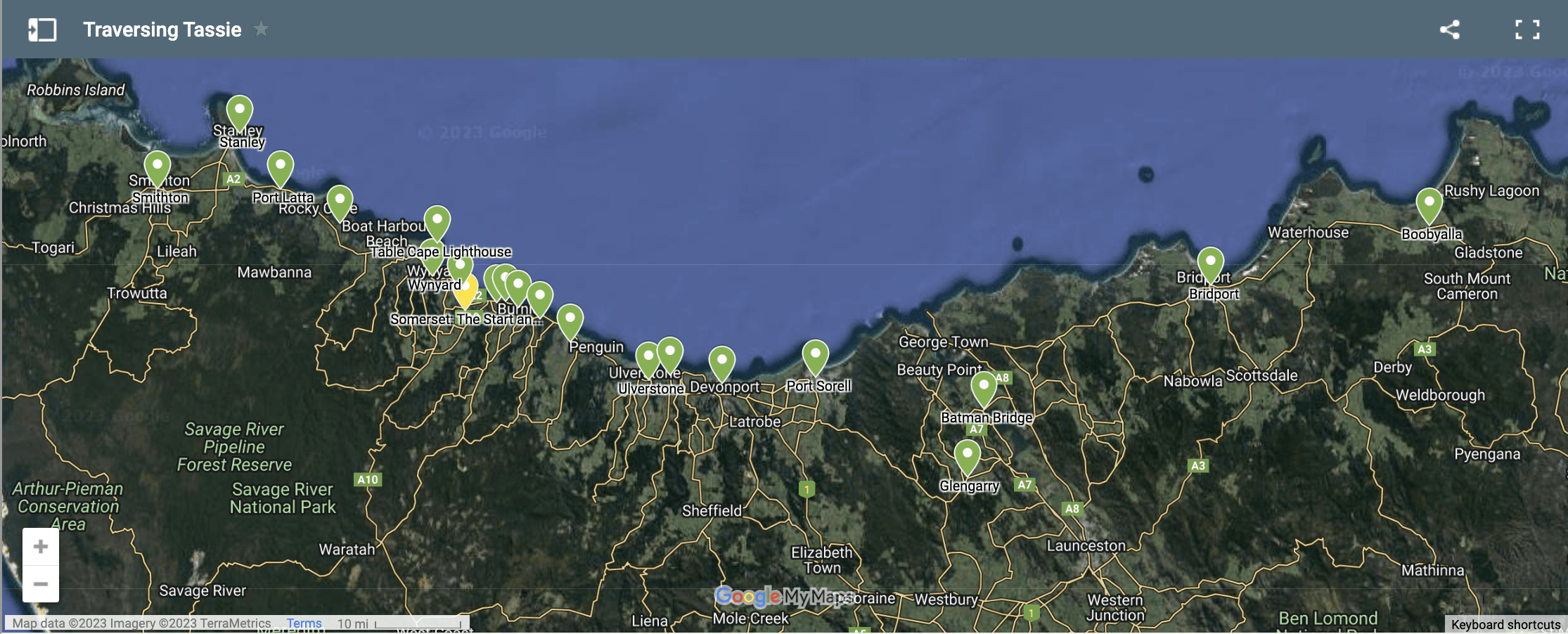 When we were planning Traversing Tassie, Shane sent over his ideas for a route and we at The SPSRF loved how the email below is the perfect expression of his kinetic energy and love of life, both of which propel him through this terrible disease of Stiff Person Syndrome (SPS). Marathoners with SPS are few and far between, and he is open about the trials he goes through to compete in his "doco" Run to Live and his SPS Patient Story.
We are so grateful to Shane for being a daily inspiration and his exceptional generosity in creating this Traversing Tassie ultramarathon to specifically shine a light on SPS and support The SPSRF. We know not everyone can run an ultramarathon to show their support, which is why you can visit the Traversing Tassie event page to learn how you can help raise awareness of SPS and support the research necessary to develop better treatments and make a cure possible for SPS (spoiler alert: donate!).
Without further ado, here's Shane on his route, in his own words…
Starting at Somerset I'll head east crossing the Cam River, passing through the scenic towns of Ocean Vista & Cooee, towards the city of Burnie. I'll pass the lighthouse at Round Hill called Blinky Bill, a good reminder of why I'm making my way to Eddystone point lighthouse.

With spectacular views of the coast the miles will melt away, passing through Sulphur Creek, Penguin along the old coast to Ulverstone & Turner's Beach climbing my way to Devonport. Turning left towards Devonport Airport makin my way along the Frankfurt Highway through Port Sorrell, Glenbarry with beautiful countryside surrounding me & sections of roads I haven't ran, I'm looking forward to the experience & stimuli.

I'll cross the Batman Bridge heading North East towards Pipers Brook, continue to Bridport through the Boobyalla Plains to the most easterly point of Tasmania, Eddystone point lighthouse. I know this will be a special moment of the journey and quite possibly an emotional one, knowing what's on the other side of the Pacific Ocean & why this is happening.

Sucking in the ocean air & hopefully sunny sky's hitting my face, I'll turn around and make my way back to Somerset, 300k/200mi on the same route, fingers crossed with a tail wind.

Returning to Somerset I'll grab a massage from Marion's Massage, in Somerset. I'll quite possibly stand in Bass Strait at my local beach for some R&R. Once I'm back on the road I'll head West passing Doctors rocks turning right along the old coast road to Wynyard, another beautiful section of the NW coast of Tassie.

In the center of Wynyard I'll turn right & climb up to the lighthouse at Table Cape, I'll sit back & enjoy the AMAZING 360 degree views of this beautiful island, looking east will give me a special buzz knowing I've made my way by foot. With more incredible views to the West overlooking, spectacular Boat Harbor. I'll trek up Sisters Hills taking in views of the "Nut" the remains of a Volcano at Stanley (can imagine thoughts of I know who the nut is) only a runner knows the feeling.

Passing through Rocky Cape & Port Latta with Sea views on my right & country views to my left. I'll cross Detention River & trott my way to the rural town of Smithtown, turning left signposted Marrawah 50km. This section I'm really looking forward too, as I've made many a trip to Marrawah surfing. With more pleasant surroundings & a quiet country road to run on, I'll hear Lighthouse Beach calling, my destination the most Westerly point of Tasmania.

It's a special part of the world & a feeling of the edge, or end of the world. With Antarctica being the next stop, it's justified. With the incredible rugged forces of mother nature smashing into the coastline, its rugged beauty is awe inspiring.

It will be a surreal feeling being at Lighthouse beach knowing how I got here. Home James haha along the same route with 100 miles to go, if the body is willing it's game on, non stop home in under 24hrs.