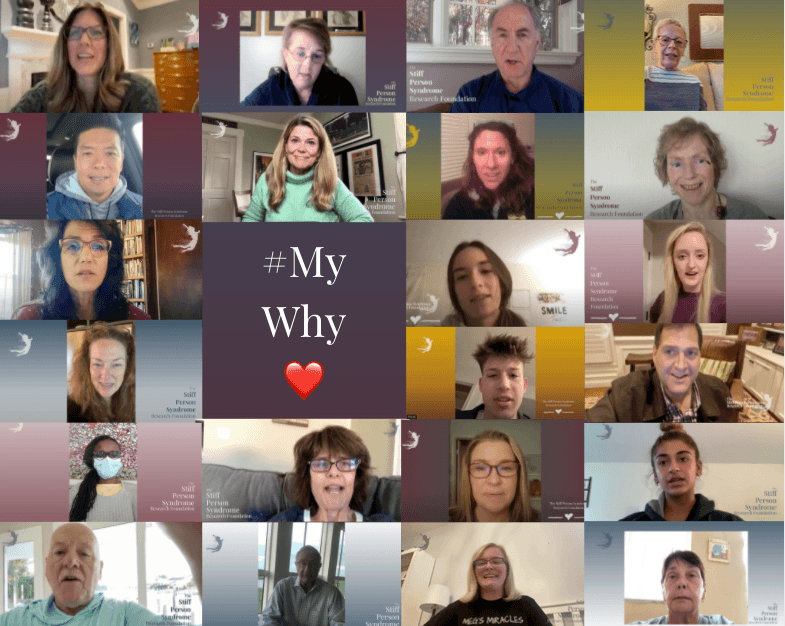 To kick off the first virtual community meeting for the Rare As One (RAO) cohort this month, Priscilla Chan told the story of her Chinese grandparents and parents, who took part in the great exodus during the Vietnam War. They, like thousands of families, separated their children to increase the odds of survival, and placed them in small boats in a big ocean with "audacious optimism" that they would reach safer, more promising shores alive. "That power lives in so many of you," she said through tears.
We are optimistic that we will find better treatments and a cure for Stiff Person Syndrome. Our work will not be done until we do. And we boldly hope that you'll help us do that by giving one more gift before the end of 2021.
Being selected as a Chan Zuckerberg Initiative RAO grantee is an astonishing opportunity. When we applied for the grant last spring, we did not dream that we would be connected to so many rare disease organizations that are building patient registries, hosting international symposiums, raising significant funds for research, and willing to share all of that expertise with us for the next three years.
Chan told us, "Together, you are powerful." Together, we are not just dreamers with hope. We are also doers. And doing is fueled by donations. With your end-of-year donation, we will be stronger.
With gratitude,
Tara
---
Q&A For Medical Professionals
Dr. Jim Weiss, member of The SPSRF Medical Board, recently spoke with physicians at the Mayo Clinic in Minnesota about writing a detailed "Q&A" document geared toward medical professionals. We are grateful to Drs. Andrew McKeon and Jennifer Tracy for answering this house call, sharing their expertise, and increasing understanding of SPS worldwide.
---
SPS PATIENT STORIES
Meet Tisha Foster
She calls herself "a bullhorn in stilettos." A former model who was diagnosed with SPS in 2011, Tisha Foster recently published her memoir, "My Journey with God Through Stiff Persons Syndrome." Watch her VOICES OF SPS video where she reveals who has been the guardian angel of her life.
---
FUNDRAISING
#MyWhy❤️
The need: It was around my third neurology appointment when Dr. Newsome told me Johns Hopkins had recently applied for a research grant at NIH but was denied because there wasn't enough research to get the grant. "What??" I stared at him in disbelief as I sat in a chair in debilitating pain with a progressive disease and no good treatment options available. It was crystal clear to me at that time there was no foundation to raise dollars for research. So I started one.
My kids: Kenna and Cameron, my loves. They lost their dad. Then I got sick. And we are bonded through this experience. I will do whatever it takes to show them that no matter what hand you are dealt, you can still thrive, be happy, and make a difference. There are unbelievable gifts that can come from extreme adversity. These kids drive me everyday to be the best I can be. They are an unstoppable force.
Thank you to everyone who shared their personal "why" for supporting The SPSRF.