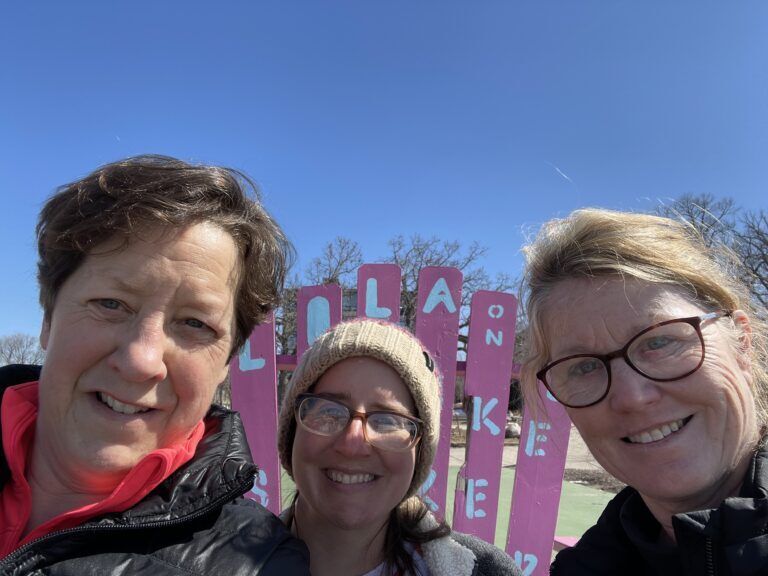 After retiring from the Smithsonian's National Museum of the American Indian, moving across the country from Washington, DC, to Minneapolis, MN, and experiencing my own cardiac health crisis, volunteering at The SPSRF has been a lifeline for me.
Elaine and her niece Kelsey at a 5k run for charityHelping to create a fundraising program for The SPSRF gives me a sense of connection and purpose. The camaraderie of this small team is unmatched in any other work environment I have experienced. Fueled by our passion for the missions, we all work really hard and want to bring our best efforts to The SPSRF. I love the intentionality of how we are creating an organization — recognizing important shared values and understanding how skills and talents complement each other and form a stronger team. After a career working in a large bureaucratic organization, it is exciting to be part of a small startup and seeing and feeling how your own input makes an immediate difference and complements the whole.
Why The SPSRF?
I was lucky. Because of advances in medical research, my genetic heart issue was able to be repaired as an outpatient procedure. Even as recently as 5 years ago, it would have required open heart surgery. I was treated and able to quickly get on with my active lifestyle all because my condition is more common and medical research has made great discoveries.
Pictured from L to R: Elaine, her niece Kelsey & sister-in-law Nancy at a 5k run for charity
Pictured from L to R: Elaine – Fundraising Volunteer Extraordinaire for The SPSRF, her niece Kelsey & sister-in-law Nancy at a 5k run for charity
It made me wonder why there are large cardiac centers at hospitals across the country and only a few places where rare autoimmune conditions are considered and treated. I'm convinced that with broader awareness and more medical research, treatments and a cure for SPS can be found. You don't have to have SPS now for this work to be important to you. You just have to care about people who might not be as lucky as you are.
How can readers help?
While the CZI (Chan Zuckerberg Initiative) grant is a big boost to help us build a more impactful organization these next 30 months, it is only temporary. We need significant ongoing resources to fund our work and medical research. We need to expand our network of supporters. Share our messages. Give generously. Urge your friends to give. And, of course, volunteer!