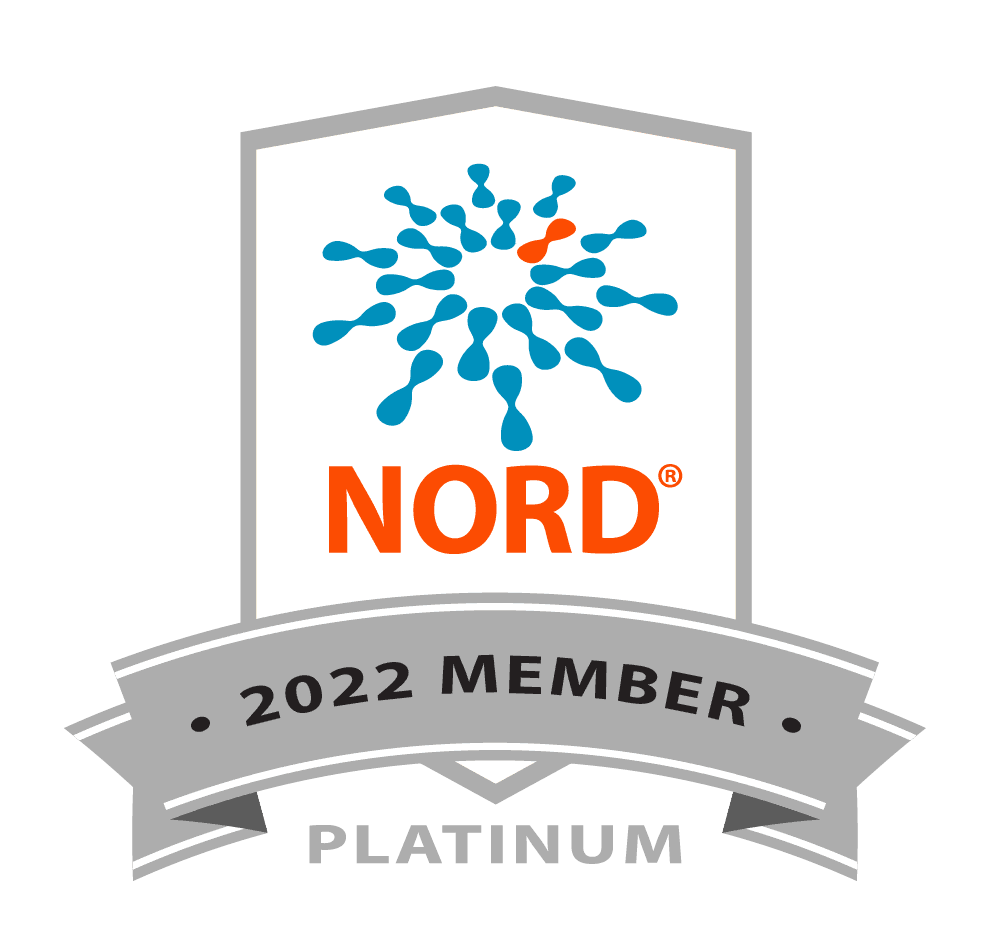 Big News: The Stiff Person Syndrome Research Foundation is now officially a platinum member of The National Organization for Rare Disorders (NORD)! NORD Platinum level membership represents the highest level of integrity and transparency for patient advocacy organizations involved in medical research, drug development, medical education, and registries in the U.S. The platinum seal is not only a stamp of approval and accountability for our organization but also a way to bring national attention to SPS.
The SPSRF is the only member in the NORD platinum community dedicated to raising awareness for SPS, supporting research for better treatments and a cure for SPS, and strengthening our community through education and collaboration. Becoming a member at this level required us to satisfy an extensive list of qualifications which fueled our development of a Medical Advisory Board and an expanded Board of Directors.
This is a great achievement for our foundation. I'm super proud to be a part of such a wonderful organization and to harness the collective power of 300 rare disease groups working together. To learn more about NORD, read the latest section of our website, RArE Moments. Thank you for all of your support.
With gratitude,
Tara Zier
---
RESEARCH
Northeast Stiff Person Syndrome Conference
Congratulations to Dr. Duarte Machado of StiffPersonSupport.org for hosting the Northeast Stiff Person Syndrome (SPS) Awareness Annual Conference in May, a great way to give patients and caregivers a place to connect and learn in person! A special thank you to John Fleming, Sue Mackie, and Dave Axelrod for all of their hard work in planning the event. Tara and Board Member Lara Vujovic presented about The SPSRF and plans for a patient contact registry and natural history study which is crucial in driving research.
---
AWARENESS
Medical Unicorn? Meet Joey Sample
Joey calls himself a "medical unicorn," a fantastically sarcastic way of saying he is extremely difficult to diagnose and treat, especially since he tested negative for the GAD antibody, one of the hallmarks of SPS.
He also claims to be a terrible fundraiser (even though he works with a very successful fundraising arm of the Smithsonian). But when he became The SPSRF's first official Facebook and Instagram fundraiser, something magical happened. Spoiler Alert: Joey's birthday fundraiser netted over $6k. Click here to watch Joey's story.
We're Facebook (and Instagram!) Official and Now You Can Host a Virtual Fundraiser!
Do you have a birthday coming up? Visit The SPSRF Facebook page and click on the fundraiser tab under the top banner to get started! Or, click on either platform here for step-by-step instructions: Facebook or Instagram. It's a great way to teach your friends about SPS and support Research, Awareness, and Education.
#Move4Rare
Our heads are spinning trying to keep up with Mary & Randy Latza, moving for those who can't. They are dedicating all of their ultra-triathlons to The SPSRF in support of their great-niece Isla, perhaps the youngest SPS patient in the world.
In April, Randy completed the Ironman World Championship in St. George, Utah, 140 miles of running, biking & swimming in one day, all in a custom-made race suit! The Latzas have raised $7,500 so far this year. Help them hit their goal of $40,000 for SPS Research, Awareness, and Education (RArE) by donating, sharing their story on social media, and if you can, cheering them on in person at their next event – Ironman Lake Placid in July!
---
EDUCATION
Managing Your Diagnostic Odyssey
How often do you leave a medical appointment feeling frustrated? How many times have you had to tell, and retell, and retell, your story? Before your next appointment, take a look at The SPSRF tip sheet and face sheet. Designed to streamline and simplify each visit on your diagnostic odyssey, you invest a few minutes once to save yourself countless start-to-finish-retellings.
Your Opinion Wanted
Please take five minutes to fill out our 2022 Subscriber Survey. Your feedback helps us tailor our communications to your needs and gives us valuable insight about our community as we apply for grants. If you already did, thank you! Click here to tell us what you think!