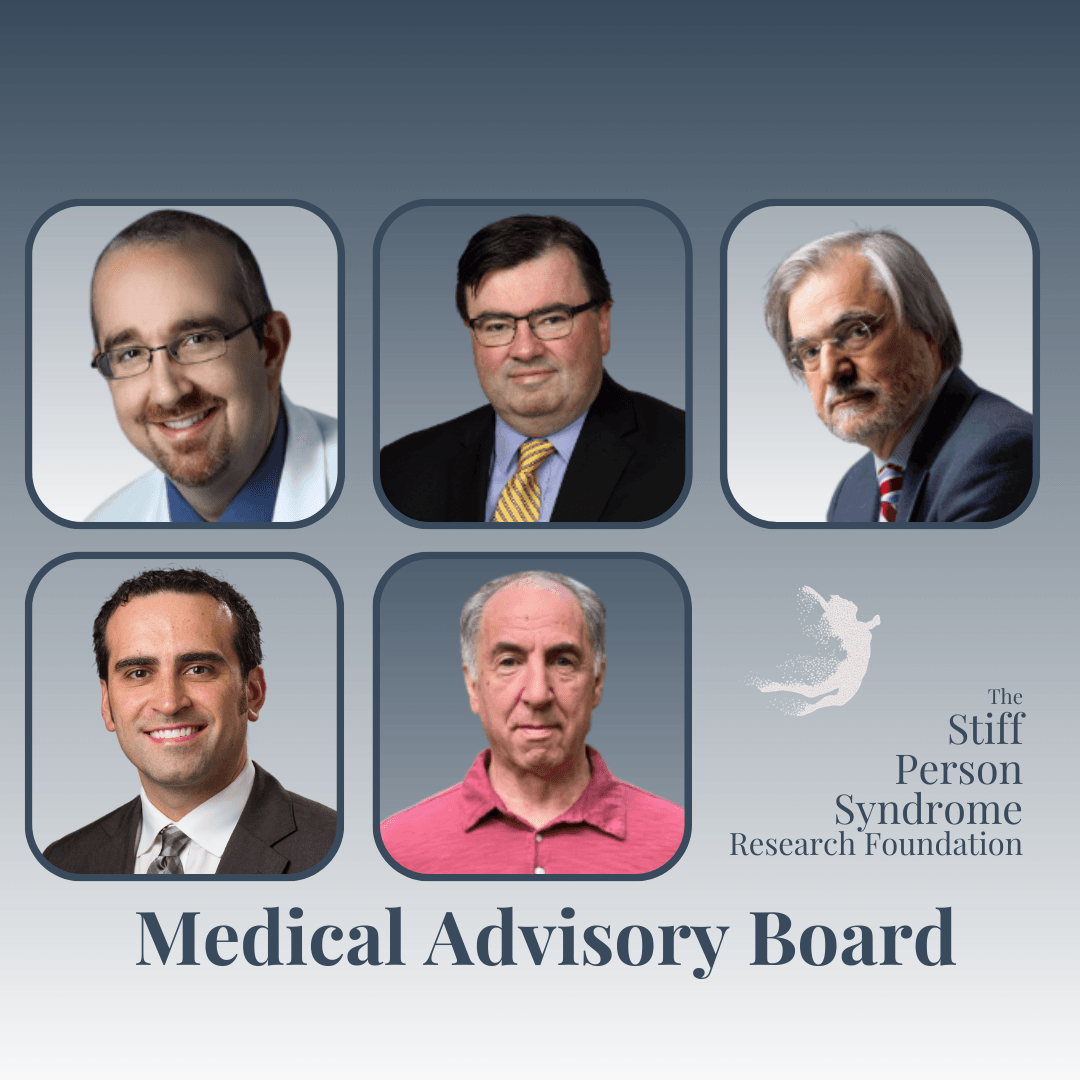 I am so proud to announce the formation of The SPSRF Medical Advisory Board, consisting of three of the top SPS neurologists in the country. Dr. Marinos Dalakas of the Thomas Jefferson University School and University of Athens Medical School, Dr. Andrew McKeon of Mayo Clinic, and Dr. Scott Newsome of Johns Hopkins Medicine. Dr. Jim Weiss, the father of a son with SPS, serves as the Chair.
Their expertise will be invaluable to guide all of our many medical and research initiatives and patient programs over the years including our current one, a patient contact registry/natural history study which is critical in driving research.
It was such a surreal experience to witness three SPS experts on our first Zoom call together. I thought to myself, this is really happening. We are going to do this. We are doing it!
A day I will never forget.
With gratitude,
Tara Zier
---
RESEARCH
#RAREis Global Advocate Grant
We are excited to share our most recent win that supports our mission-aligned efforts in research. This month, The SPSRF received our first program grant from #RAREis Global Advocate Grant. This funding is essential as it will allow for the creation of a Patient Contact Registry and Natural History Study for Stiff Person Syndrome, a current gap in medical research. This will help us gain a better understanding of the disease and how it impacts patients.
Find more information about this generous gift here.
---
AWARENESS
A Love Story: Meet Angela Davis
Angela's life began tragically. For years she suppressed emotional and physical pain. But after she was diagnosed with SPS, Angela became the most prolific writer about it on The Mighty, an excellent source for health stories. In fact, she put SPS on the map. It's how The SPSRF found her and learned that the restorative love of her husband set free a powerful voice. Click here to watch Angela's story.
#Ultra4Isla Update
Normally, Randy and Mary take turns: one competes while the other supports. This month they competed at Ironman Lake Placid side by side! The Latzas are dedicating all of their ultra triathlons to their great niece Isla, perhaps the youngest patient diagnosed with SPS in the world. Cheer Mary and Randy on by donating an amount that is meaningful to you.
---
EDUCATION
Connecting with People Struggling with a Rare Disease
Rarely heard. Devin Davis is tired of small talk. Being married to SPS warrior Angela Davis for 24 years, he suggests different conversation starters than, "What do you do for a living?" if you really want to connect with someone struggling with a rare disease. Read all about it right here.
---
FUNDRAISING
Let's Get Mathmagical!
When is $25 more than $250?
When you are a monthly donor to The SPSRF! It's mathmagical!
Monthly donors are people just like you who are giving anything they can to prove that together we can accomplish great things and find a cure for SPS. When you make a monthly $25 contribution, your annual contribution will be $300. Help us realize our shared vision of better treatments and a cure for SPS by becoming a monthly donor today.
If you are already a monthly donor, we sincerely thank you! Know someone who might be interested in joining our monthly donor program? Please share our work so they, too, can join us in our efforts of finding a cure for SPS.
Joey Sample says: I'm a recurring donor because it's easy and I know I'm making a bigger impact!
---
ICYMI
We spotted some superstars who hosted fundraisers for The SPSRF on Facebook. Thank you madly and deeply to them, and to all of you who supported them! We are in this together – #RareNotAlone
Kelsey Cheramie
Sheila Cross
Matthew Forchione
Janie Lees
Danielle Renee Peladeau
Theresa Marie
Diane Procive
Carla Robson
Joey Sample
Britnai Shipe
Steven Schartel
Maryann K. Sivilic
Tiffany Jeffries Sizemore
Joe Sangillo Weidling
Tom Wilson