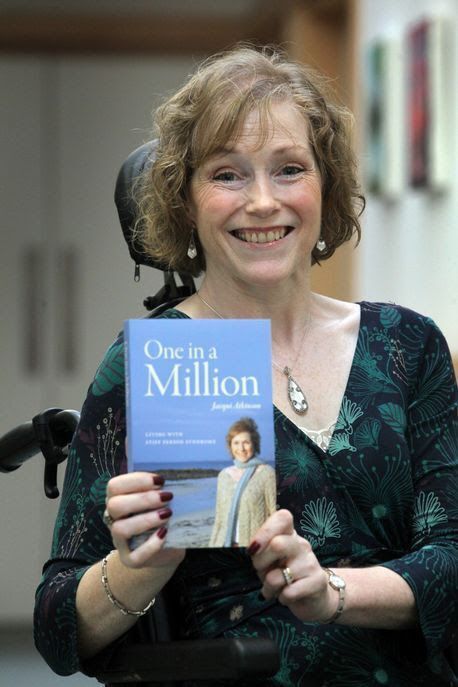 "This has been an exciting, surprisingly emotional day. Two hours ago I was at the bank opening an account for my nonprofit foundation…"
That was my Facebook post dated December 5th, 2019 announcing the birth of The Stiff Person Syndrome Research Foundation. It is astounding how far we've come since then, from launching our website, to raising over $25,000 for research. We are just getting warmed up. I am forever grateful for all who are joining me on this journey to raise awareness and funding for the research necessary for this horrific, often misdiagnosed disease.
The research is happening. We are making a difference. And this is just the beginning.
Tara Zier
---
SPS Patient Stories
Meet Jacqui
From the city of Newcastle upon Tyne in England, Jacqui Atkinson spent six years struggling to understand the muscle spasms and chronic pain taking over her body.
Despite countless visits to doctors, many of whom accused her of feigning her severe, days-long spasms, she held onto her hope and faith until she found an answer: Stiff Person Syndrome (SPS).
Jacqui spoke about her experience here, chronicled her journey in a memoir — One in a Million — to raise awareness of the condition, and is generously donating 50% of book sales to The SPSRF.
---
Another Month, Another Myth to Bust
Stiff Person Syndrome is a one in a million disease…well, not exactly.
While classified as a rare disease, SPS is more common than we think. The symptoms of muscle spasms, rigidity, and anxiety are often misdiagnosed as Parkinson's disease, Multiple Sclerosis, other autoimmune conditions, and psychological disorders.
On average, it takes a staggering seven years to diagnose. By that time, patients are often fully disabled.
---
The Cold Water Plunge
Me: "I jumped off this waterfall into really cold water and felt no pain or sickness while submerged for the first time in five years."
My Neurologist: "Can you do it again, see if you have the same experience, and check the water temperature?"
Me: "Absolutely!"
Climbing out of the water, smiling. No pain. No sickness. Water temp: 63.5 degrees. Things that make you go hmmm…
---
Since You Last Saw Me...
Thanks to your support, The SPSRF donated its first $10,000 raised to the Johns Hopkins Stiff Person Syndrome Center. That donation injected fuel into the center to help neurologists study the condition and better understand other autoimmune diseases.
Let's keep the momentum going — please donate and spread the word!