Describe your life at your healthiest point.
Probably before elementary school started even though I already started to have aches and pains due to an undiagnosed genetic condition called EDS (Ehlers-Danlos Syndrome).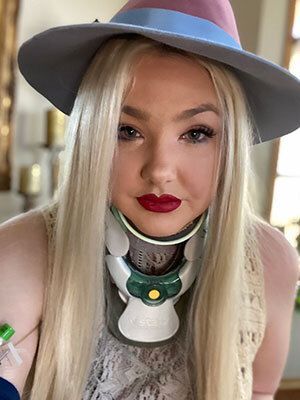 How many years before your diagnosis were you experiencing Stiff Person Syndrome (SPS) symptoms?
6 years.
Describe your most debilitating symptoms.
Being stiff as a rock and in pain. I need to be moved for my safety but any touch makes it worse. But what I really want is someone to lie next to me or pet my hair or rub my back. But that's the cruelest thing about SPS. Any touch makes it worse.
Describe treatments you have tried, what has worked and what has not.
Benzodiazepines (they seem to help a lot). Medical marijuana (I am allergic so that did not work out well). Painkillers (due to allergies there are only three types of painkillers I can take and ketamine usually works the best for me. Or if I am in a bad state in the hospital they'll use intravenous ketamine).Then IVIG – WHEN IT WORKS, IT WORKS WONDERS!
Describe a time you received compassionate care.
After my first round of IVIG they pushed it too fast and I got really really sick from midnight to morning. I couldn't even roll my body. So the nurse just laid me on my side. I couldn't even get my head out from underneath the pillow. My nurses know me so well – they know what I want before I want it! And of course the doctor who saved me – who finally took a chance on me – and diagnosed me.
Describe how SPS has changed you.
I feel like I'm not living a lie anymore. I feel I'm not second-guessing anymore. I also feel like I want go to all the neurologists that have done me wrong and say, look what you missed! But in reality, I just want to raise awareness. There are too many of us suffering and that needs to change!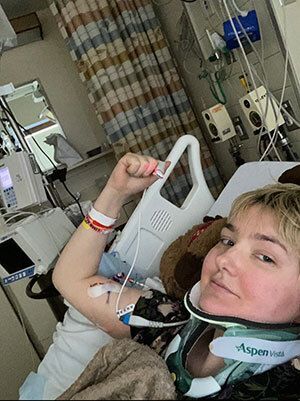 What brings you joy?
I feel like I'm at peace. Because I told my family I don't want to die not knowing. Slowly things were getting worse and worse and I was so scared that I was never going to have any answers. Everything makes so much more sense now!
What do you want people to know about you?
Follow your dreams but sometimes those dreams change and God shows you your true calling which is advocating for others and raising awareness for rare diseases (for me, it's on TikTok). Never give up your fight for a diagnosis!
Occupation/previous occupation, if disabled.
Model, actress, director, production assistant for commercial and movie sets (if I was not in them).
Misdiagnosed? With what.
Yes. FND (Functional Neurological Disorder).
What do you want The SPSRF to achieve?
Help those with SPS and SPSD and their providers find information, support, and better treatment options.